A partnership to divide and conquer the Sea to Sky drive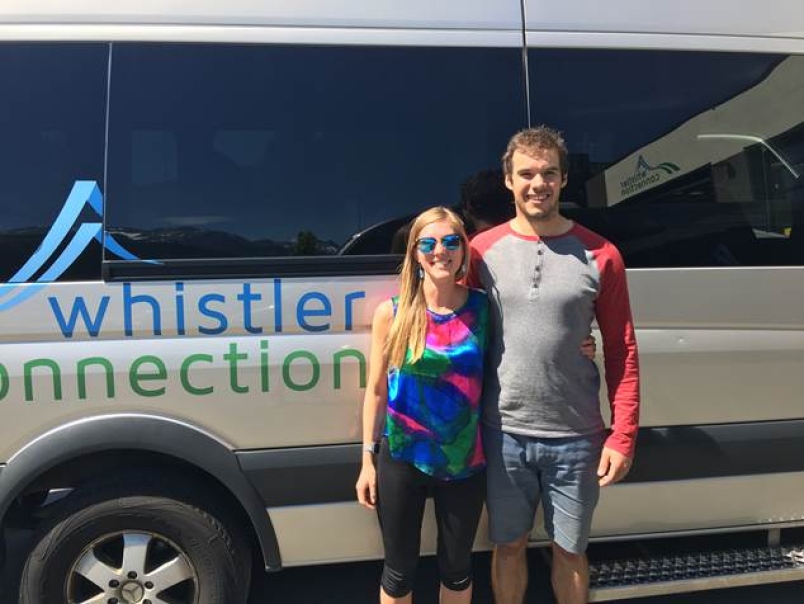 July 4, 2017
By: Michelle Ratcliffe
Make business easy — tune in to The Big Idea, a bi-weekly column from the Whistler Chamber of Commerce showcasing a Whistler business innovating in their sector
From car sharing startups to self-driving cars, technology is transforming how we get around.
Tech innovation in the transportation sector is rolling out globally and in our own backyard, where a partnership between two innovative Whistler businesses is improving the ease and efficiency of trips along the Sea to Sky Highway.
Whistler Connection operates a premium transportation service connecting Whistler with Vancouver International Airport and downtown Vancouver. Ridebooker is a fresh, young tech and customer service company that offers users an easy, efficient, affordable way to book transportation.
Together Whistler Connection and Ridebooker have teamed up to offer locals and visitors high-quality, low-cost transportation. Theirs is a service positioned to ease strains on the Sea to Sky by offering fast and easy travel. It's a shining example of the added horsepower that can be generated when two successful medium-size businesses team up to have a big impact in their marketplace.
Operating a fleet of 25 vehicles, Whistler Connection transported 91,986 passengers in 2016 and in 2017 they expect to move well over 100,000 customers. The partnership maximizes shared resources allowing Whistler Connection to focus on operations while reservations are handled by Ridebooker.
"By relying on Ridebooker's technology expertise we can each have highly specialized teams that excel at what they do while providing each other with support," said Tori Williamson, Whistler Connection dispatch manager, when explaining how each of their teams can focus their time and energy where they are the strongest.
Timing is everything
Whistler Connection has been working with tour operators to shuttle guests between Whistler and Vancouver International Airport for over 27 years. Their model is a responsive one that flexes to fit the timing needs of their travellers.
Rather than working with a set-in-stone bus service, they design their trips around flight schedules. The operations team watches arriving flights each day to group passengers together for the most convenient travel times. They guarantee you won't be at the airport longer that one hour in winter or two hours in summer or the ride is free.
"Our operations team focuses on having precise and exact information for our clients and vehicles so we can operate as timely and efficiently as possible," explained Williamson.
Whistler Connection is able to focus on complex and responsive logistics because they can rely on Ridebooker's dedicated customer service team to take bookings, answer questions and provide support.
Tech to connect
Ridebooker COO, Eric Molnar, describes his office as half customer support call centre and half software development team. Their travel concierges book transportation throughout North America for a global client base, while a team of software engineers build bespoke systems, which facilitate an efficient, intuitive process.
"Our team hails from around the globe, and brings a hugely diverse range of skills and knowledge to the table; from machine learning and software engineering to luxury travel concierge provision, digital marketing, corporate accounting and more," said Molnar of the diverse team that gives them a competitive advantage in their industry.
With their established partnership, Ridebooker's development team is also custom building a completely new, real-time fleet management tool specifically for Whistler Connection. The new system in development updates automatically using airline APIs, allowing greeters and dispatch to always be one step ahead.
"Ultimately it means our guests get out of the airport and onto their shuttle as quickly as possible," said Molnar.
Positioning the partnership
These two companies began working together six years ago offering the service known as Ridebooker's "Whistler Shuttle" with Whistler Connection vehicles. This year the teams will market their YVR shuttle service as "The Whistler Shuttle by Whistler Connection."
The move will include fresh branding on Whistler Connection's Mercedes Sprinter vans and Airporter Minibuses. As a driving force behind the marketing of the partnership, Williamson sees this as an important opportunity to spread the word that Whistler is served by a unique and customer-focused service that builds its schedule around its clients.
"The Whistler Connection – Ridebooker relationship is only getting stronger, and the service for guests travelling in the Sea to Sky will only get better as we work together to provide industry-leading service," said Molnar.
Whistler Connection's Williamson added, "focusing on strengths and finding complimentary partnerships means together we are greater than the sum of our parts."
Link to Whistler Question article: http://ow.ly/VJRnm