Resources to Support Whistler Local
Check out Tourism Whistler's Support Local page dedicated to dining, shopping and adventuring in Whistler
Visit the Whistler Farmers' Market every Sunday from June – October to support local small businesses in the Sea-to-Sky.
What Does Buying Local Mean?
Local owned businesses are private, worker, community or cooperative local ownerships; are at least 50% owned by a local resident; the businesses have a limited number of outlets or limited geographic range
8 Reasons Why You Should Buy Local
Small-scale, locally owned businesses create communities that are more prosperous, connected, and generally better-off across a wide range of metrics
Keep money local – Money spent locally stays in the local economy 
Creation of local jobs – Shopping local creates jobs. Shops in our town create local employment and self-employment. These people in turn spend in the local economy.
Reduce environmental impact – Local shops often stock a high percentage of locally sourced goods that do not require long-distance transportation, helping to reduce our global footprint.
Encourage local prosperity – Entrepreneurs and skilled workers are more likely to invest and settle in communities that promote their one-of-a-kind businesses and distinctive character.
Support for community groups – Local independent shops invest more in our communities. Local businesses are proportionally more generous in their support of local charities, schools, and community events.
Better public service – Local businesses mean a stronger tax base and better use of public services compared to nationally owned stores your sales taxes are reinvested where they belong— in your community!
Embrace what makes the community unique – One-of-a-kind businesses are an integral part of the distinct character of our place. Shopping locally retains our distinctiveness. Independent shops create distinctive shopping experiences and stock different products.
Get better service – Local businesses often hire people with a better understanding of the products they are selling and take more time to get to know their clients, customers, and patrons.

How to Support Whistler Businesses During COVID-19
Many Whistler businesses are struggling in the current circumstances, but things will get better eventually. The support we show now can help local businesses weather this storm and continue serving our community in the future. Here are a few ways you can show support to your favourite Whistler businesses during COVID-19.

Shop Whistler
In a time when we are increasingly shopping online, consider checking with local stores to see if they have shifted to also offer online shopping services. Thinking about a Whistler business first, can make a real difference to these entrepreneurs in a time of need.

Order Merchandise
Many businesses in the service industry who have had to shut their doors due to social distancing measures, have online stores that are still open for business. Showing support by buying merchandise can help cover overheads such as rent and staffing costs, and show the business owners the strength of the community.

Buy a Gift Card
Even though we may choose not to sit down to a meal at our favourite restaurant right now, we can show support by buying a gift card. A lot of bars/restaurants are promoting gift card purchases at the moment, as they provide a quick injection of cash to help them cover staffing and bills.

Leave a Review
Reviews can give businesses a big credibility boost. They appear in prominent positions on Google search listings, and play a role in improving the search ranking of a business. If you're not in a financial position to make a purchase, a positive review on Google or other industry-specific review sites can make a huge difference.​

Order Delivery   
Many traditional sit-down restaurants are now offering delivery services, enabling their customers to continue enjoy their favourite meals from the comfort of their homes. If your favourite restaurants are offering delivery, show your support and place an order.
Use hashtags when sharing favourite businesses on social media
Hashtags are a useful tool on social media that can be used to link similar information. When you use the hashtag #lovewhistlerbiz you're helping to spread awareness of local businesses to people who are searching for places to support!
Know before you go
We can all support Whistler business by planning ahead and knowing our responsibilities. Find out the opening hours and safety protocols in place at your favourite businesses in town, before you visit. Also, make sure you know the latest safety recommendations from our government, and follow these guidelines to keep staff and yourself safe, so that Whistler's businesses can keep operating.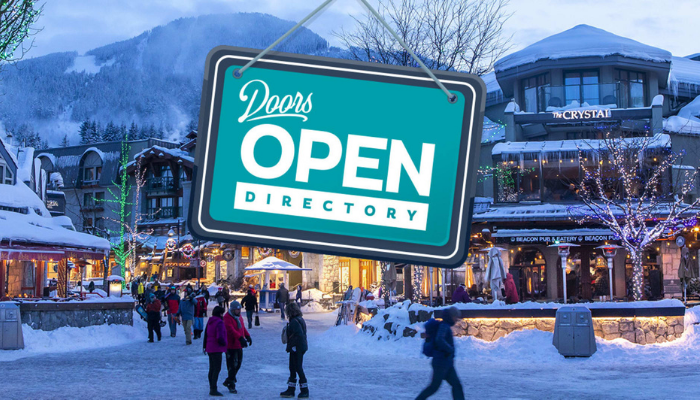 Whistler's Doors Open Directory
Whistler's Doors Open Directory from Tourism Whistler provides information for locals or visitors planning ahead. The directory provides up-to-date information on what is open in Whistler.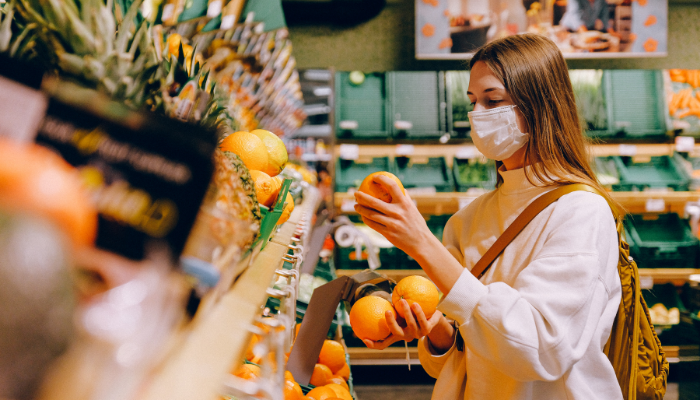 COVID-19 Resources and Updates
We have gathered all of the most useful resources to help us during the pandemic. Use this page for tools covering everything from safety recommendations and health orders, to financial support.
#TeamWhistler
Check out these inspiring examples of local businesses coming together in support of #TeamWhistler. If you know of a business that has taken steps to help Whistler through this pandemic or made a creative shift in their business model in order to stay afloat, please email us so we can share those stories.
Armchair Books
With the help of trusty Facebook-savvy helper Jeanette, a post on their Website, and some very supportive and vocal moms in Squamish, Armchair Books have changed their business model. They are taking phone and online orders from Squamish, Whistler and Pemberton and offering free delivery! Owner, Dan, says "Overall, we're making enough to cover overhead, and more importantly, we're connecting with our community in a way that we haven't done before."
Audain Art Museum
The Audain Art Museum endeavoured to provide engaging content virtually throughout its period of closure. This involved a series of live talks by artists entitled Tuesday Night Talks, offering a unique opportunity for online participants to simultaneously enter the Museum and the artist's studio or home via Zoom during the evening. With COVID-19 procedures in place, the AAM reopened to the public on June 26th, and is open Thursday to Sunday from 11am – 6pm.
AWARE & Whistler Community Foundation
With the difficult decision to cancel Whistler Nature Camp summer programming due to COVID-19, the Whistler Community Foundation supported AWARE in shifting activities to an online format to give families the opportunity to stay connected with nature from home. Participants are invited to learn and explore right in their own natural backyards following along with five different themes. Over 40 activities are available to download for free on the AWARE website.
Barber Media & RAW
The Restaurant Association of Whistler has collaborated with Barber Media to create a free online app called, Taste Whistler.  The food & beverage industry has been one of the hardest hit during this pandemic, and the Taste Whistler app provides restaurants with a platform to communicate to the community what services they are providing at this time, and allows users to be informed about who is still operating and how they can support their favourite small businesses.
Feed the Need Campaign
Seven long-standing Whistler businesses, all located around the Village Square, joined forces to donate to Whistler Community Services Society. Their donation was matched by WB Foundation to bring the total to $7,000. Thanks to the leadership of Shane Holland at Whistler Hardware, along with Moguls Coffee House, evo Group, The Grocery Store, Armchair Books, Coast Mountain Photography and Foto Source, this donation is a great start to the FEED THE NEED campaign.
GetintheLoop Whistler
GetintheLoop Whistler is built to support local businesses, by connecting businesses to locals through the mobile app, push notifications, email, social media, and local websites. In response to the current situation, they have shifted their platform to help the community discover local businesses that are open for pick-up, delivery, gift cards and/or ecommerce offers. This shift helps businesses to capture attention, drive return business, and increase sales as business evolves.

Glacier Day Spa
Glacier Day Spa only recently opened to the public, and they have made sure that clients can enjoy much needed pampering whilst also feeling safe. Masks and sanitizer are available upon arrival and all massage therapists wear masks throughout, and they are using online forms to reduce contact. To support Whistler locals, and to say thank-you for welcoming them to the community, they are offering 60min massages for $50 and 90min massages for $75.
Hunter Gather Whistler
Hunter Gather Whistler is "Coming Together While Staying Apart". From April 29 their kitchen is re-open for TO-GO orders, available for pick up or delivery. The team has adapted their large space and patio to allow for customers and their team to be safely 2 meters apart during the TO-GO process. Their online ordering portal has been updated to be streamlined and easy. Re-opening allows them to support their local suppliers and thank the Whistler community!
Hy's Steakhouse Whistler
Hy's Steakhouse Whistler is offering Hy's at Home – Take Out, complete with cooking instructions. Pick up prime grade steak to cook at home! They also have chef videos for step-by-step instructions on how to perfectly grill your Hy's steak at home. To launch this initiative, all gratuities collected from Hy's pick-up service were donated to community food banks.
Perez McKenzie Immigration
Perez McKenzie Immigration has taken steps to assist our community by reducing consultation fees on April 1st for Whistler clients, to help offset the effects of COVID-19. They also offered free 15-minute Q&A sessions early in April 2020 to help those with quick immigration questions during these uncertain times. They are keeping their blog, Facebook page and website up-to-date with articles and immigration information; to offer some clarity and reassurance during this time.
Rising Knead Bakery
Meg Stringfellow and her team at Rising Knead Bakery have been supplying many of Whistler's restaurants with traditional naturally fermented sourdough breads and pastries for some time.  Now that a lot of those restaurants have had to close their doors, Meg quickly shifted her business model to online orders and home deliveries, thereby ensuring that her and her staff can continue to work, and Whistler can continue to enjoy her delicious breads.
Squamish Lil'wat Cultural Centre
The SLCC is reopening to the public Friday, June 26. Hours of operation for the museum, gift shop, and Thunderbird Café will be 10am – 5pm Thursday – Sunday, including statutory holidays. In place of indoor guided tours, they will host guided forest walks along our Salish Stroll three times daily at 11am, 2pm, and 4pm. These will be included in Museum Admission. Online offerings will continue at SLCC.ca/FromHome.
Velvet Underground
Velvet Underground
 is hustling harder than ever to move their whole business online. Find all their vintage clothing, homewares, and accessories online as well as products made by other small businesses. Their entire cafe menu is online for order and pick up on weekends. They have added bulk grocery products like nut milk, condiments, granola, coffee beans and weekly grocery boxes too!
Whistler Car Wash
Whistler Connection
found themselves with no tourists to transport to/from the airport at the end of March, so they turned their resources to other opportunities. As well as providing a
white label delivery service
to restaurants and grocers, they launched a new
car wash and auto detailing service
that makes use of their giant wash bay in Nesters. Their team has also been helping the Food Bank and Reuse It Centre with pickups and deliveries!
Yogacara Whistler
Yogacara has always focused on fostering compassion, connection, and community. After reopening at a reduced capacity to honour social distancing, they wanted to "show up" for the community in a bigger way. Through
online classes
they are continuing to support those who aren't ready to come back to the studio yet, and anyone living outside of Whistler. Now the same warmth and heart of in-person classes can be experienced from home for only $40 per month.
How has your business shifted during COVID-19?
Follow the Whistler Chamber on Facebook
Get regular updates about everything relating to business in Whistler, including government announcements, news about Members, and of course Spirit Pass information!