Local Resources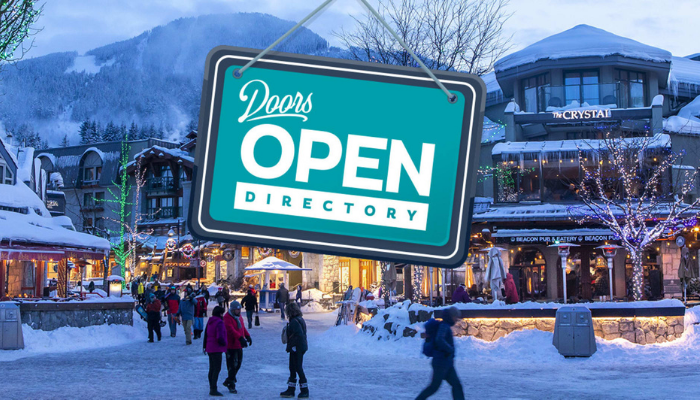 Whistler's Doors Open Directory
Whistler's Doors Open Directory from Tourism Whistler provides information for locals or visitors planning ahead. The directory provides up-to-date information on what is open in Whistler.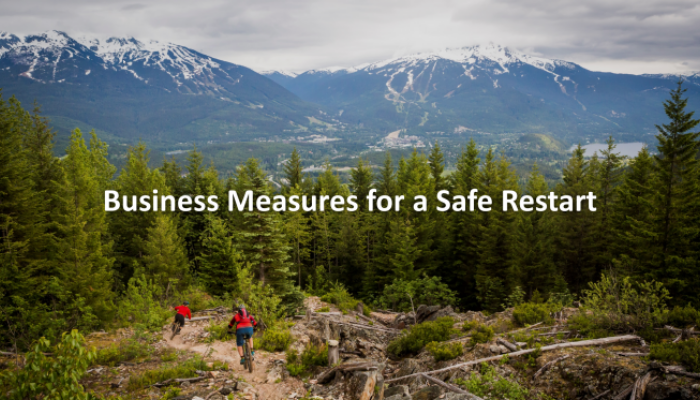 Guidelines for a Safe Restart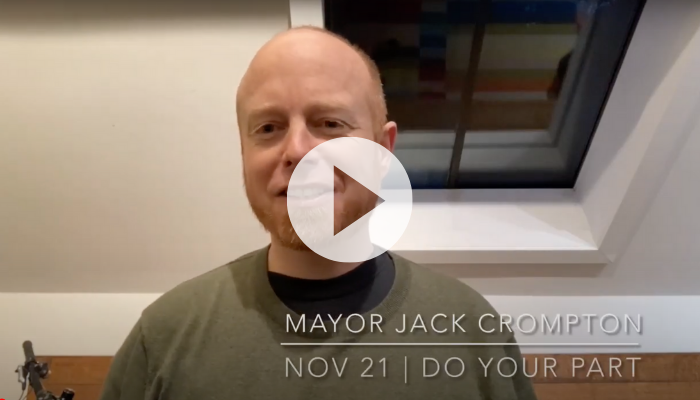 How to Support Whistler Business
Here are a few ways you can show support to your favourite local businesses during COVID-19.
Member to Member Offers
Local businesses share offers with one another, to make things a little easier for our community during COVID-19.
 Financial Support
Canada Emergency Wage Subsidy (CEWS)
As a Canadian employer who has seen a drop in revenue due to the COVID-19 pandemic, you may be eligible for a subsidy to cover part of your employee wages, retroactive to March 15. This subsidy will enable you to re-hire workers, help prevent further job losses, and ease you back into normal operations.
More information is available on the official CEWS website, here.
Canada Emergency Business Account (CEBA)
Originally launched on April 9, 2020, CEBA is intended to support businesses by providing financing for their expenses that cannot be avoided or deferred as they take steps to safely navigate a period of shutdown, thereby helping to position businesses for successful relaunch when the economy reopens.
This $55 billion program provides interest-free loans of up to $40,000 to small businesses and not-for-profits.
Repaying the balance of the loan on or before December 31, 2022 will result in loan forgiveness of 25 percent (up to $10,000).
As of October 26, 2020, eligibility for CEBA has expanded by removing the previous March 1, 2020, condition for having an active business chequing/operating account. With this removal, eligible businesses can now apply after opening a business chequing/operating account with their primary financial institution. For more information about this new criteria or other criteria established since the launch of CEBA we recommend you visit the FAQs.
More information is available on the official CEBA website, here.
Canada Emergency Commercial Rent Assistance (CECRA)
Support for Women Entrepreneurs
On May 16, the Government of Canada announced an additional $15 million in funding to the Women Entrepreneurship Strategy (WES). The money will go directly to select organizations that are currently WES Ecosystem Fund recipients to help women entrepreneurs through the COVID-19 pandemic.
Resources from BDO
BDO has 3 Tax alerts that provide further details on these two subsidies (subject to Royal Ascent pending at time of release) and the Canada Emergency Business Account:
BDO also have a useful summary of all federal and provincial programs (and tax deferrals) as of the date of the presentation. 
HR + Health & Wellness
 Safety & Expectations
WorkSafe BC
All employers must demonstrate that they can operate safely, and are required under the Workers Compensation Act to ensure the safety of their employees at work.
WorkSafeBC will be there to help all local businesses, non-profits and organizations, and will work with employers and workers through educational materials, consultation, and workplace inspections to help you restart safely.
Employers are required to:
Sectors that have operated during the pandemic may need to update their COVID-19 Safe Plans to fit with updated Health and Safety Guidelines, best practices and resources.
For resources, visit the WorkSafeBC website or call WorkSafeBC's Prevention Information Line at 1-888-621-7233.
The BC Chamber with your Sea to Sky regional Chambers partnered with WorkSafeBC to provide this webinar on workplace health and safety during COVID-19.
Posters & Infographics to Share
 Webinars & Virtual Events

Click on the videos below to browse the category playlist and find videos about the topics your need support with.
COVID-19 Business Support
CEO's Weekly Update for Whistler Biz
 Stay Informed
Health Updates
Stay up-to-date on the rapidly evolving situation, by frequently checking provincial, national and international websites:
Business Support
These excellent resources from Canadian organisations will keep you informed, and will help to make business easier for you:
 COVID-19 Blog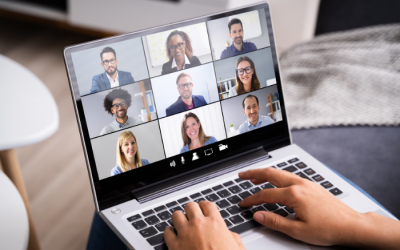 Advocacy in Action - Celebrating the Power of Connection February 25, 2021 On February 18, the Whistler Chamber held our monthly Advocacy in Action: Member Input Session. Melissa Pace, CEO of the Whistler Chamber, connected virtually with eight Members and...