Health & Wellness + HR
 Local Resources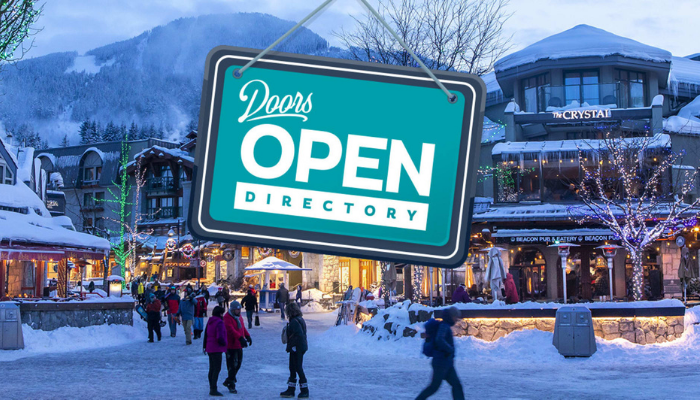 Whistler's Doors Open Directory
Whistler's Doors Open Directory from Tourism Whistler provides information for locals or visitors planning ahead. The directory provides up-to-date information on what is open in Whistler.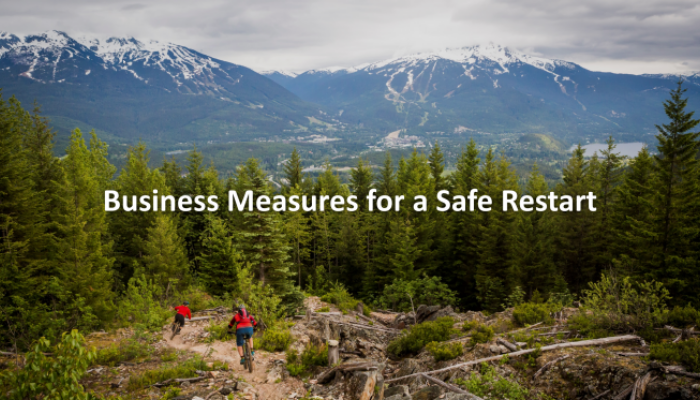 Guidelines for a Safe Restart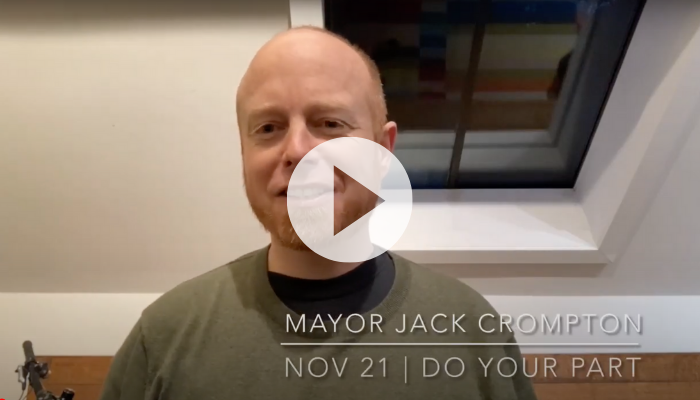 How to Support Whistler Business
Here are a few ways you can show support to your favourite local businesses during COVID-19.
Member to Member Offers
Local businesses share offers with one another, to make things a little easier for our community during COVID-19.
 Financial Support
Canada Recovery Hiring Program
For businesses that have been hit hardest by the pandemic, hiring the workers they need to grow is a cost they may worry about taking on. The federal government wants these businesses to be able to recover and grow by hiring more people. The proposed Canada Recovery Hiring Program would provide eligible employers with a subsidy of up to 50 per cent of incremental remuneration paid to eligible active employees between June 6, 2021, and November 20, 2021.
Temporary Wage Subsidy
The 10% Temporary Wage Subsidy for Employers (TWS) is a 3-month measure that allows eligible employers to reduce the amount of payroll deductions they need to remit to the Canada Revenue Agency (CRA). This only applies to the federal, provincial, or territorial income tax portion of the remittance.
The subsidy is equal to 10% of the remuneration you pay from March 18 to June 19, 2020, up to $1,375 for each eligible employee. The maximum total is $25,000 for each eligible employer.
Canada Emergency Rent Subsidy (CERS)
Canadian businesses, non-profit organizations, or charities who have seen a drop in revenue during the COVID-19 pandemic may be eligible for a subsidy to cover part of their commercial rent or property expenses, starting on September 27, 2020, until June 2021.
This subsidy will provide payments directly to qualifying renters and property owners, without requiring the participation of landlords.
If you are eligible for the base subsidy, you may also be eligible for lockdown support if your business location is significantly affected by a public health order for a week or more.
Canada Emergency Business Account (CEBA)
Originally launched on April 9, 2020, CEBA is intended to support businesses by providing financing for their expenses that cannot be avoided or deferred as they take steps to safely navigate a period of shutdown, thereby helping to position businesses for successful relaunch when the economy reopens.
This $55 billion program provides interest-free loans of up to $40,000 to small businesses and not-for-profits.
Repaying the balance of the loan on or before December 31, 2022 will result in loan forgiveness of 25 percent (up to $10,000).
As of December 4, 2020, hard-hit small businesses and not-for-profits could be eligible for an additional $20,000 CEBA loan, on top of the $40,000 already available.
Applicants now have until June 30, 2021 to apply for a $60,000 CEBA loan or the $20,000 expansion at their financial institution.
More information is available on the official CEBA website, here.
Canada Emergency Commercial Rent Assistance (CECRA)
Regional Relief and Recovery Fund (RRRF)
WD's Regional Relief and Recovery Fund (RRRF) aims to help western Canadian businesses cope with the financial hardship resulting from COVID-19.
Support for Women Entrepreneurs
On May 16, the Government of Canada announced an additional $15 million in funding to the Women Entrepreneurship Strategy (WES). The money will go directly to select organizations that are currently WES Ecosystem Fund recipients to help women entrepreneurs through the COVID-19 pandemic.
Support for Individuals & Families
Employment Insurance (EI)
As of September 27, you may be eligible for EI if you:
were employed for at least 120 insurable hours in the past 52 weeks
received the CERB, the 52 week period to accumulate insured hours will be extended
stopped working through no fault of your own
have not quit your job voluntarily
are ready, willing and capable of working each day (EI regular benefits)
are temporarily unable to work while you care for someone else or yourself (EI maternity, parental, sickness, compassionate care, and family caregiver benefits)
If you are eligible for EI benefits, you will receive a minimum taxable benefit at a rate of $500 per week, or $300 per week for extended parental benefits.
Canada Recovery Benefit (CRB)
Canada Recovery Sickness Benefit (CRSB)
Canada Recovery Caregiving Benefit (CRCB)
BC Recovery Benefit
The BC Recovery Benefit, a one-time, tax-free payment of up to $1,000 for eligible families and single parents and up to $500 for eligible individuals. You have until June 30, 2021 to apply.
Bill Relief
ICBC
ICBC COVID-19 Rebates
ICBC customers will receive one-time rebates averaging $190 this spring – their part of approximately $600 million saved due to a major decrease in crashes and costs as the COVID-19 pandemic took hold.
ICBC Payment Deferral
ICBC is providing some relief to their customers during these challenging time. If you are on a monthly Autoplan payment plan, and are facing financial challenges due to COVID-19, you can defer* your payment for up to 90 days with no penalty.
Apply for ICBC Payment Deferral
BC Hydro
BC Hydro is offering a number of programs available to help you get back on track, reduce your electricity costs, and avoid disconnection of your service.
Learn more about BC Hydro's programs here
Covid-19 & BC Tenancies
The rent increase freeze has been extended to December 31, 2021.
Annual rent increase notices with an effective date after March 30, 2020 and before January 1, 2022 are canceled. Do not pay the increased amount.
This rent increase freeze does not include commercial tenancies, non-profit housing tenancies where rent is geared to income, co-operative housing and some assisted living facilities
Learn more about Covid-19 and tenancies here
Resources from BDO
BDO has 3 Tax alerts that provide further details on these two subsidies (subject to Royal Ascent pending at time of release) and the Canada Emergency Business Account:
BDO also have a useful summary of all federal and provincial programs (and tax deferrals) as of the date of the presentation.
 Safety & Expectations
WorkSafe BC
All employers must demonstrate that they can operate safely, and are required under the Workers Compensation Act to ensure the safety of their employees at work.
WorkSafeBC will be there to help all local businesses, non-profits and organizations, and will work with employers and workers through educational materials, consultation, and workplace inspections to help you restart safely.
Employers are required to:
Sectors that have operated during the pandemic may need to update their COVID-19 Safe Plans to fit with updated Health and Safety Guidelines, best practices and resources.
For resources, visit the WorkSafeBC website or call WorkSafeBC's Prevention Information Line at 1-888-621-7233.
The BC Chamber with your Sea to Sky regional Chambers partnered with WorkSafeBC to provide this webinar on workplace health and safety during COVID-19.
Posters & Infographics to Share
 Webinars & Virtual Events

Click on the videos below to browse the category playlist and find videos about the topics your need support with.
COVID-19 Business Support
CEO's Weekly Update for Whistler Biz
 Stay Informed
Health Updates
Stay up-to-date on the rapidly evolving situation, by frequently checking provincial, national and international websites:
Business Support
These excellent resources from Canadian organisations will keep you informed, and will help to make business easier for you:
 COVID-19 Blog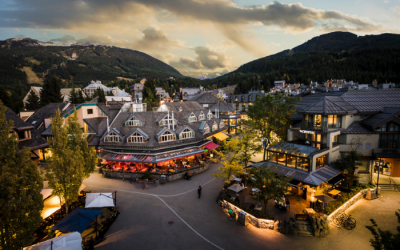 Whistler Chamber Responds to new Health Orders April 22, 2021 On March 31, 2021, Dr. Bonnie Henry, BC's Provincial Health Officer, announced a series of health orders that would have implications across the province. The Whistler Chamber posted a response by...