After the Après – Member Event Blog
Basalt Wine and Salumeria – Wine Pairing

November 4, 2015
By: Melissa Pace, Member Relations "Networking Guru," Whistler Chamber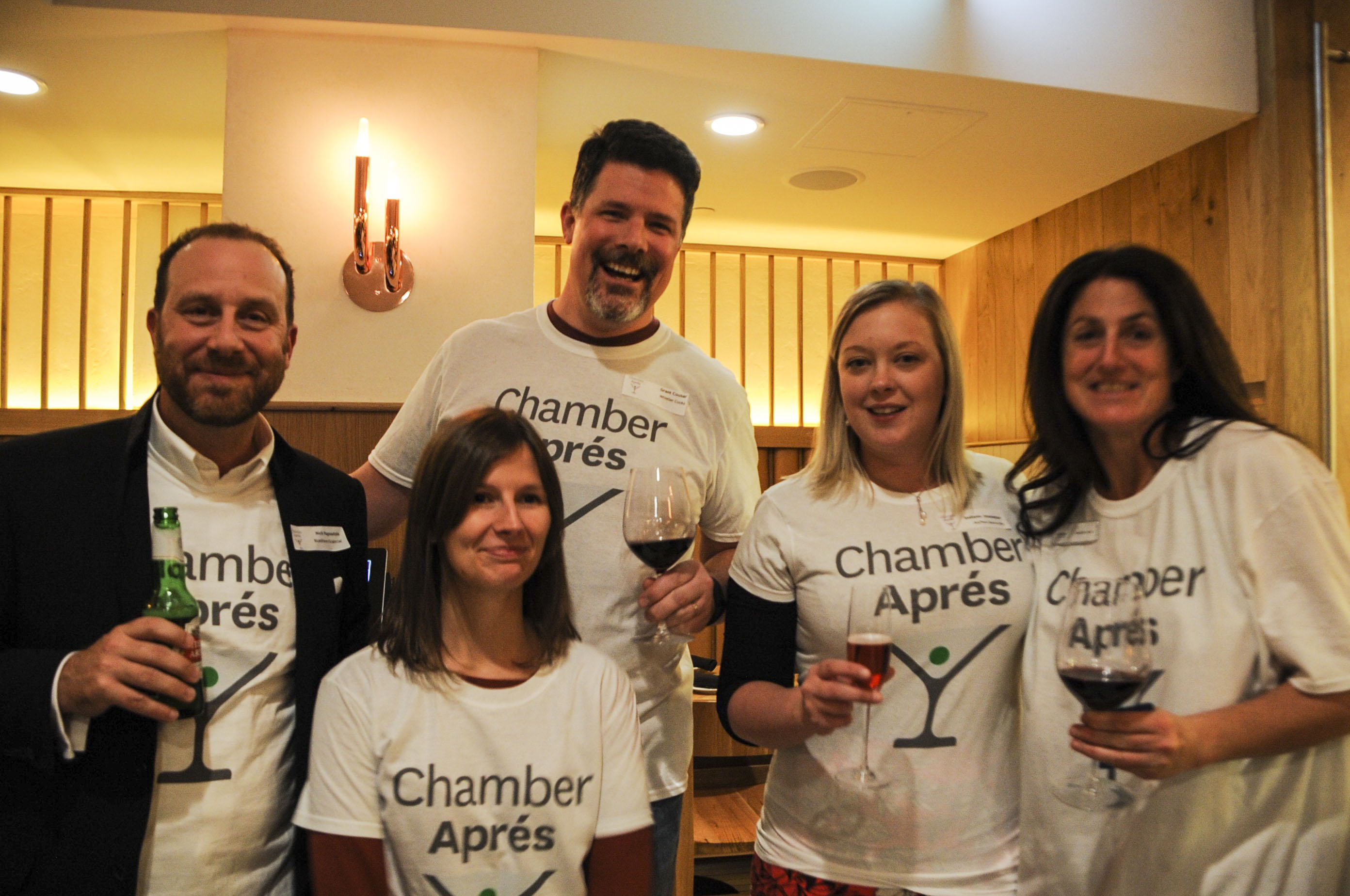 A seriously good time was had last night at Basalt Wine and Salumeria – wine, charcuterie, cheese, great conversation and…white T-shirts?  I will circle back to those T's in a bit.
Last night was the first Chamber Apres of the Season.  With over 35 Whistler Chamber members sipping delicious BC wine, tasting incredible meats and cheeses from around the world and connecting with new and old friends.  Better known in the business world as 'networking'!
I am Melissa, your official Member Relations Networking Guru at the Chamber.  Networking has been in my blood since a very early age.  I spent several years living in Europe with a Dad who was an executive for a large company.  Most weekends were spent entertaining his European business clients in our home, sipping the best wine, eating amazing foods and socializing – which is exactly what we experienced last night at Basalt!
Last night the room was filled with a host of Whistler businesses from hoteliers, to builders, foodies to financial wizards and so much more.  As your 'networking guru', I was in my element connecting people with people.   The conversations in the room were endless and in one case incredibly productive.
One of the most interesting conversations I was privy to was the introduction of David Lewis, with Thornhill Real Estate Group to Mike MacWilliams, owner of Eventures.  As we all know, finding great people to represent your company can be difficult but is crucial to the success of your business.  David mentioned to Mike that he is in search of an assistant to work with him on his Real Estate business.  As luck would have it, Mike had just had a conversation with a close friend who is in search of exactly what David is looking for.  By the end of the evening, David was put in touch with a potential candidate and is now in communication with her – all executed while sipping wine!   That is a great example of why face to face networking is so valuable to enhance your business.
In today's world, we get so caught up in social media, texting, answering phones, and not putting aside enough time to meet others face to face.  The intel that one can achieve by actually meeting with people, real people in person, is priceless.  If you missed this Chamber Apres, you're in luck – the next one is a tequila tasting at Mexican Corner on Thursday, December 3rd!
Oh right, I did mention the white T-shirts!   Here's how you get yours….
Brand new this year is our 'Members Tribe Pass'.  Only $100 for an annual pass includes:
You're very own Chamber Après T-Shirt – that's the white T-shirt!
You plus a friend have a reserved spot at every event!
You will never be charged for a no show
One blog spot on our post event eblast and on our facebook page that goes out to the whole chamber database tell your story in a guest blog to members after the event
If you would like to purchase your Annual Tribe Pass call us at 604-932-5922.
We look forward to seeing on December 3rd!
Your Networking Guru,
Melissa Pace
Member Relations
Whistler Chamber