DVAD delivers high performance design with Passive House standards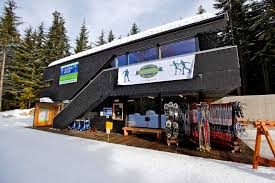 Sept 12, 2017
By: Michelle Ratcliffe
Make business easy — tune in to The Big Idea, a bi-weekly column from the Whistler Chamber of Commerce showcasing a Whistler business innovating in their sector
Every entrepreneur wants to run a business that performs at an optimum level, but in the case of DVAD, this business is creating high-performance buildings that are also good for the planet and your pocketbook.
Derek Venter started his architectural design firm in 2008 after a five-year internship with longtime Whistler architect Dennis Maguire. As a boutique architecture firm in a resort town, their clients are as varied as the surrounding mountain landscape. Projects range from family homes to commercial improvements and plenty of residential renovations and additions. Their team is equally diverse, hailing from South Africa, Ireland, Czech Republic, Canada, New Zealand and England.
Venter explained that this diversity fuelled thought on a big question, "What is good, quality architecture?"
This question was hotly debated in their firm and led to a monumental shift in their services. Meeting B.C. building code is just a baseline requirement for their team, who set their sights higher, with priority design criteria to produce a building that will perform in the most optimum way, creating a healthy, responsible and sustainable structure. This is Passive House Design.
And this is DVAD's new standard for what quality should be.
Tests and translations
Passive House Design landed on DVAD's radar when local contractor Matheo Durfeld brought international experts to Whistler to build the Lost Lake PassivHaus for the 2010 Winter Olympics. A closer look at these modern design standards had the team hooked.
The group immersed themselves in information about Passive House design, attending seminars and pouring over criteria from Europe. Studying the requirements of the Passive House standards, they came up with equivalents based on local construction materials and methods.
"We look at the materials that are available here and the way that people do things," explained Venter.  "The Passive House Standard does not tell you how to do it. They just tell you, this is what you need to achieve."
Adapting these established European criteria for local building practices required a lot of trials, testing and analyzing results.
"Massive amounts of exploring accompanied with constant learning, courses, lunch and learns, volunteering and growing, debating and more debating, brought us to a tried and tested certified system," said Venter.
This system is called the Passive House Design and, according to Venter, it will effectively reduce the heating required for the structure by 90 per cent.
Educating themselves and others
Charting new territory has been inspirational for the entire team at DVAD. The journey started (and continues) with a commitment to education.
"We immerse ourselves in the understanding of and information about the Passive House Design criteria and principals," said Venter. "Today we have six staff that have completed the Passive House courses with several certified Passive House designers and several more in the process of completing their certification processes."
Information in the hands of a few does little good, so the team is committed to communicating their knowledge to clients and contractors. Having a keen eye to spot and document opportunities to improve future projects is a big part of this as well as comparing cost and complexity.
"You only get the full cost benefits when you go full Passive House Standard and you can remove the whole heating system out of the house," said Venter, who is educating others on the value of complete commitment to the standards.
Trending now
Lowering the dial on energy consumption has the popularity of Passive House design rising.
"Passive House design is literally exploding in B.C.," said Venter. "Most people who have done even a little research run into this (design) and would like to know more."
Explaining that the design and materials required to build to Passive House standards are only required in the exterior shell of the home, Venter believes people are discovering that the complexity and cost of Passive House Design is less than they thought and the minimal price difference in construction does not take long to recover once homeowners see the savings in running the house. His vision for the future is optimistic.
"It's such a no brainer once you understand it, that you really have to ask yourself, 'why is anybody not doing this?'"
With four houses currently on the go, one of which is an eight-unit townhouse in Squamish, DVAD is riding the wave of public interest in these sustainable buildings.
"Our way of believing in the future is to design buildings that not only have the smallest possible environmental footprint, but also serve the community by consuming the least amount of energy possible."
Link to Whistler Question article: http://ow.ly/VJRnm