Growing unique businesses rooted in customer service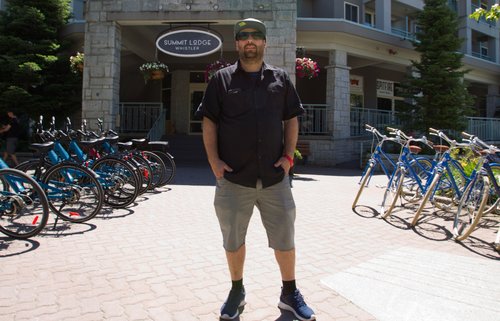 August 29, 2017
By: Michelle Ratcliffe
Make business easy — tune in to The Big Idea, a bi-weekly column from the Whistler Chamber of Commerce showcasing a Whistler business innovating in their sector
For those with ingenuity, an open mind and, perhaps, a dash of hustle, Whistler can be fertile ground for entrepreneurial endeavours.
Yohann Sheetz embodies this pioneering spirit. The owner of Underground Tuning Ski & Snowboard and Spitfire Rentals has spent the last 20 years living and working in Whistler. His heart is in the mountains and his head is full of business plans, always open to new opportunities, with one theme remaining consistent — offering unique experiences that differentiate his services.
Genuine customer care is at the core of all Sheetz does. He knows his marketplace well and has a knack for finding white space to fill a need.
"It's all about long-term thinking," said Sheetz. "By being generous with your business, you create a better experience not just for your business, but also for the ski industry and the resorts. Then these customers will come back and support your business."
For this snow industry vet, it's only natural to put yourself in the boots of the customer. When you build your business with that outlook, you are bound to organically build a loyal customer base.
Tuning in to the customer experience
Underground Tuning takes its name from humble beginnings back in the '90s in the underground parking lot of The Listel Hotel, where Sheetz worked at the time. It all started with a request from a guest and the opportunistic staffer grabbing an iron, a block of wax and rolling up his sleeves. His reputation snowballed and he struck up a partnership with the Summit Lodge who offered him commercial space.
The shop is small but mighty, providing hands-on care to the skis and boards of long time locals, loyal pros and visitors. Sheetz could have easily expanded and adopted the mechanized concept to crank out way more tunes, but instead, he caps his volume to honour the human element of his trade.
"Machine tuning is often just a means to fix your equipment, while hand tuning gives a better feeling and creates more precision in the riding. Customizing the product for the client will, without a doubt, create a better experience," explained Sheetz, who will always value the custom job over pushing a button.
Customers just want to cruise
When the snow melts Sheetz flips Underground Tuning into Spitfire Rentals, a scooter and bike rental shop.
The partnership makes creative use of the space in summer, while Summit Lodge guests enjoy the added value of a bike rental shop and secure bike storage.
"Whistler is so much more than the Village," said Sheetz. "When our customers discover the entire valley with the valley trails and the lakes, they leave with a completely different vision of Whistler."
Their fleet has grown to include cruiser bikes and tandems, e-bikes and scooters. While many shops were renting mountain bikes, Sheetz offered comfortable cruiser bikes at affordable rates to roll enjoyably along the Valley Trail network. It was an opportunity to again do something a little different to all ages, abilities and fitness levels.
Helping folks have more fun
Sheetz has amassed an impressive demo fleet from industry friends who also put unique customer-driven innovation at the heart of what they do. The team also gets to know hotel guests and their equipment, which often spurs the opportunity to offer unique products or equipment to try.
For Sheetz it's all about helping folks have more fun in Whistler. The way they care for customers builds relationships. Visitors take unique memories home with them and loyal locals regularly trust their equipment to this team when it really counts. No need to name drop, just glance at the signatures on the shop wall to see the list of pros who wax poetic about Sheetz and his crew.
His businesses seem to make everyone happy because he takes the time to think deeply about what everyone needs.
"What goes around comes around," he said. "Treat the customer the same way you would want to be treated, and the love will come right back. It's impressive how you can create longtime international relationships in this town by meeting amazing visitors."
His brand of personalized service pairs perfectly with the values and vibe that the Summit Lodge has built their unique and boutique reputation on. The hotel is able to offer guests valuable add-ons to their Whistler experience and Sheetz has commercial space for his businesses to thrive.
Sheetz insists that his success would not be possible without the partners, friends, family and amazing staff who helped him on his journey from the Listel Hotel parking lot to today.
With unique customer experiences, Sheetz's businesses are charging forward as fast as one of his freshly tuned boards. And that's pretty fast.
Link to Whistler Question article: http://ow.ly/VJRnm