Healing hands at Back In Action keep community tuned up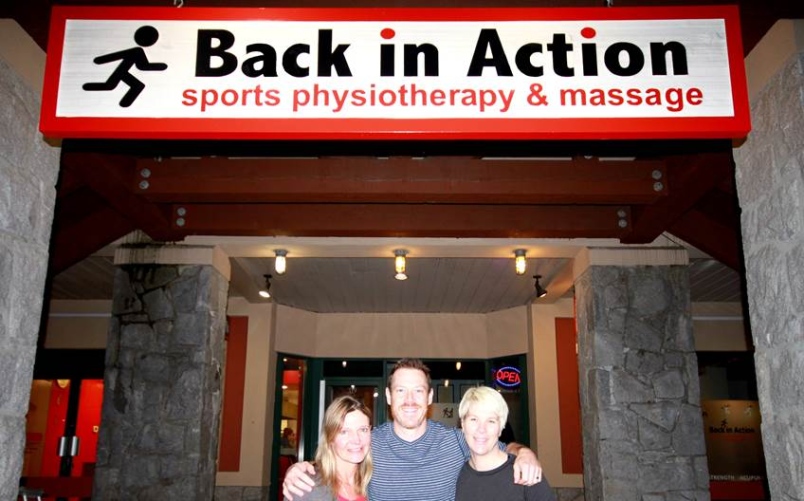 July 4, 2017
By: Michelle Ratcliffe
Make business easy — tune in to The Big Idea, a bi-weekly column from the Whistler Chamber of Commerce showcasing a Whistler business innovating in their sector
While I was wandering the Village recently with a visiting friend, he shared a keen observation: "I've never seen a more beautiful and more injured population than that of Whistler."
I chuckled realizing the truth of this statement. In a community of mountain adventure enthusiasts, playing hard and yes, sometimes crashing hard is part of the territory.
Taking precious care of the body is key to continuing to enjoy the local ride and Whistlerites go great lengths to protect themselves from injury and bounce back quickly when problems arise.
This is where Mike Conway, a sport and musculoskeletal physiotherapist, and his team come in. Conway co-owns Back in Action Physiotherapy and Massage alongside physios Bianca Matheson and Therese Leigh. Conway's work recently earned him the distinction of being named Business Person of the Year at the annual Whistler Excellence Awards. He was celebrated for channeling his passion for helping patients recover from injury and developing injury prevention tools.
"Our core mission is to be a centre of excellence in sports and musculoskeletal injury management and in the promotion of injury reduction strategies," said Conway.
The business model for Back in Action is centred around the needs of the local community. Their extensive experience revealed a desire for free, user-friendly injury management and prevention resources. They zeroed in on specific topics like concussions, spotting a need to help filter through the mountains of contradictory information.
The team put their expertise to work to provide resources to educate and guide patients to the best recovery possible. They also developed Back in Action's SKIRAD phone app aimed at providing skiers and snowboarders with a "fit for snow" guide to reduce injuries.
The success of this preventative tool also led to BIKERAD and RUNRAD books.
Partnering for prevention
Conway has found their injury prevention efforts stretch to far greater lengths through business, community and professional sporting partnerships.
"Focusing on those that will support our business year round and providing good will goes a long way when building a following to your business," said Conway.
The impressive list of partnerships has included Whistler Blackcomb, the Canadian Sports Institute, Alpine Canada, Canada Ski Cross, Canada Snowboard, Freestyle Canada, community running groups, WORCA and Whistler medical clinics. These partnerships have created opportunities to give injury prevention talks and have assisted with the development of proactive tools and resources.
The A-team
Positioning the clinic on the leading edge, Back in Action has mountain high standards for top trained therapists who are leaders in their field.
"When building our team, we stick to our brand, which is to provide industry-leading services with the best-qualified practitioners," explained Conway.
The result is a high performance facility powered by diverse skill sets. Seasoned pros offer highly specialized services that match the unique needs of clients. From concussion management and acupuncture to vestibular rehab and even female-specific physical therapy for new and expecting moms, the list of specialized services is extensive and impressive. Their experience with elite and recreational athletes keeps the team on top of the latest available research and techniques to deliver top quality care.
Peak results
Patient engagement is the final piece of the puzzle for these pros to give the best care.
"For optimum recovery we feel strongly that patients are well cared for and empowered to be active in their recovery," said Conway who explained that the clinic provides a one-on-one patient-centred care model through hands-on treatment, while also providing take-home tools so healing bodies can continue their care at home.
"In the fast paced health industry where best practice advice is constantly evolving we strive to keep up and keep learning while promoting an active care model," said Conway. "This ensures patients are empowered and active in their recovery leading to a more complete, and longer- term recovery."
In a community that moves at an impressive pace, complete and rapid recovery is the Holy Grail. This highly customized, leading edge care that deeply educates is key to serving this community of clients that range from recreational enthusiasts to elite athletes.
"Our moto is to 'keep you playing' or simply to get you 'back in action' as quickly and safely as possible," Conway said.
Link to Whistler Question article: http://ow.ly/VJRnm