Laughing it up with Headwound Productions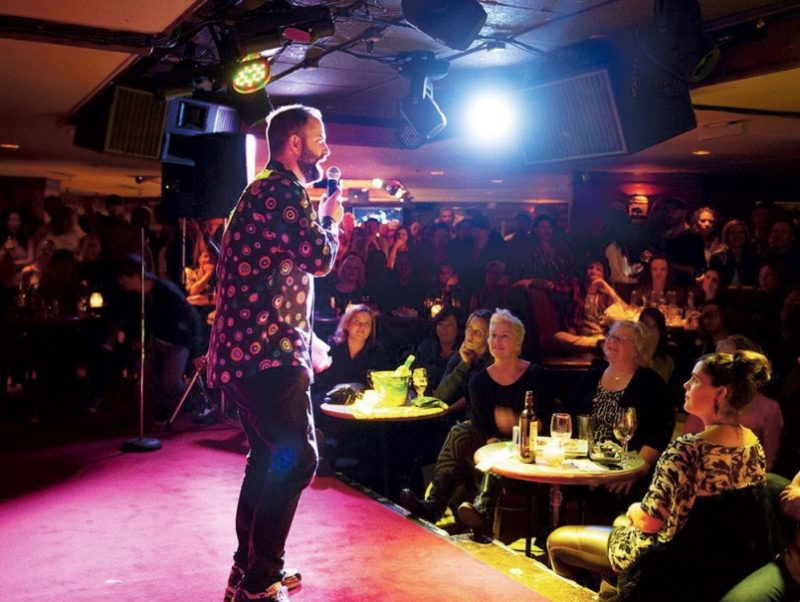 September 26, 2017
By: Michelle Ratcliffe
Make business easy — tune in to The Big Idea, a bi-weekly column from the Whistler Chamber of Commerce showcasing a Whistler business innovating in their sector
Who doesn't love a good chuckle?
It's no secret that laughter brings people together. Get a group cracking up and you immediately watch walls break down. A good guffaw is not only universal, but as our mothers repeatedly told us, "laughter is the best medicine."
Tara O'Doherty knows the power of a giggle. From comedy showdowns to entertaining improv skits, she is a local queen of funny. In comedy, she found her calling, but how her business, Headwound Productions, came to be is no laughing matter.
After a major concussion left O'Doherty struggling to reclaim her memory and mental health, it was the healing power of humour that helped her navigate the long road to recovery. Wanting to test her memory and reclaim her confidence to face a crowd, O'Doherty set a goal that would terrify many — to enter a stand-up comedy competition.
"At the end of it all, with the head injury, it was the worst thing to happen to me, but it was also the best thing to happen to me," she said.
Now she is living up to a deal she made with herself: to help others through laughter.
"Comedy helps you escape your head for a bit, escape your trials and tribulations. Laughter is healing," she said.
Headwound Productions is on a mission to make Whistler laugh. Whether it is for hard working locals who need to let loose or visitors craving meaningful memories, O'Doherty's funny business offers a smile for all.
Festivals with a funny side
It began with the Whistler Comedy Showdown competition, a favourite fixture of the World Ski and Snowboard Festival. The event creates a safe, supportive space for amateurs who want to try stand-up. With consistent sell-outs under her comedy black-belt, she cooked up a new idea — the Comedy Kitchen for Cornucopia. Just last week, she also added a new night to her riotous roster of events with the addition of the Comedy Kegger as part of the Whistler Village Beer Festival.
"It adds a different dimension to established festivals in town," she explained. "Every festival is different. I can tailor and fit the comedians to fit the demographics of the festival."
Her next Comedy Kitchen on Nov. 9, as part of Cornucopia will feature two huge up-and-coming Vancouver comics with Sophie Buddle headlining and Mayce Galoni as the feature comic and one more comic still to be announced.
Side-splitting special events
O'Doherty's years of festival experience and a background in radio production along with professional band management have given her an eye for creating entertaining experiences, building relationships and getting people laughing.
Her successful event format from festivals translates perfectly to private parties, fundraisers or even team rewards and incentive celebrations. O'Doherty's experience enables her to tailor her comic choices to the audience and event.
"It's important to really look at a comedian. What do they stand behind? What do they like in their Twitter? What do they like in their Instagram and ask, will that fit with this crowd?"
Corporate comedy
O'Doherty's belief in the power of laughter has led to her next project with her partner, Jason McLean — The Laugh Authority — bringing improv training to the corporate world. Laughter, she says, is seriously good for business, so The Laugh Authority has built a team of incredible local facilitators who have years of experience.
"Teams are different today than they used to be, so we need to pull the layers back," O'Doherty said of the team-building training that uses improv and comedy sketches to create a fun environment, break down barriers and build camaraderie.
The innovative workshops develop presentation skills, get groups thinking on their feet, build confidence and, most importantly, get teams laughing together. Headwound Productions can also add to the hilarity by bringing in a professional comedian or crafting a custom comedy show to wrap up a workshop.
"This is about helping each other out. We want to help bring people back to themselves, achieve better self-worth, become more confident, build better teams and enhance self-awareness," she said.
Comedy is an essential part of the creative culture in Whistler. O'Doherty is working hard to spotlight that and to share it with those who visit. She has made a profession out of funny business and her dedication to spreading positivity is no joke.
"Nothing connects people better than laughing together. That's what Headwound Productions is able to do. I want to make people laugh and help others to realize their potential."
Link to Whistler Question article: http://ow.ly/VJRnm