After the Après – Member Event Blog
The Big Finish at The Faimont Chateau Whistler with Event Rental Works
July 7, 2016
By: Chamber Après Tribe Member, Lloyd Daser, General Manager of Pan Pacific Whistler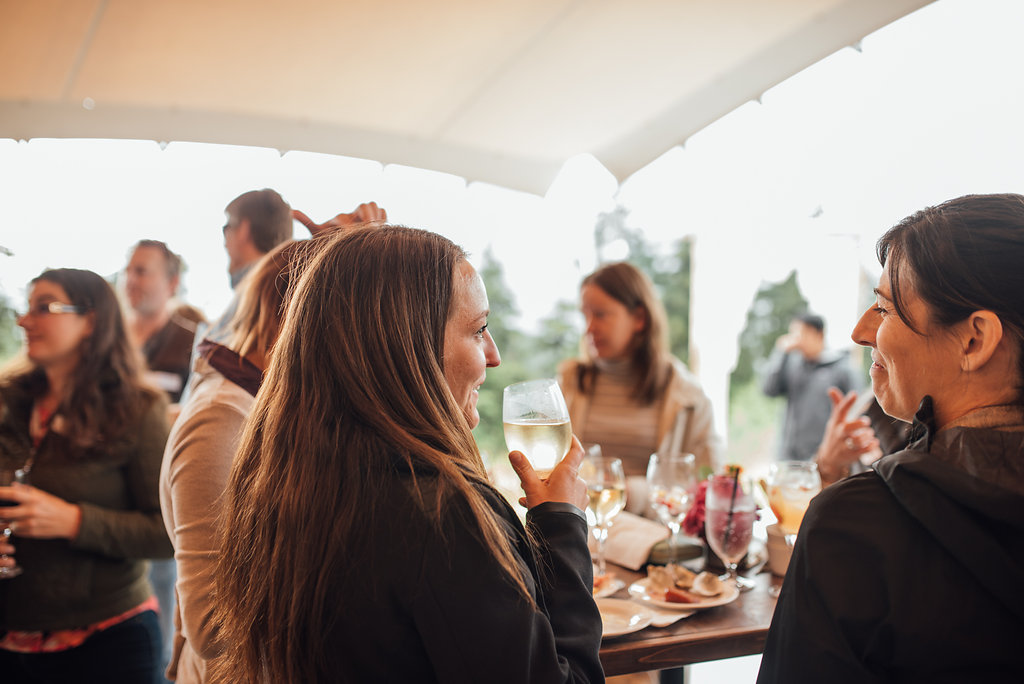 It was touted as THE BIG FINISH to the Chamber Après Season in some secret, undisclosed location.  Given the success of the earlier Chamber Après Events expectations were high and certainly the
Fairmont Chateau Whistler
and
Event Rental Works
who partnered to host the last event, didn't disappoint.
Another sold out crowd of about 100 people gathered at the Fairmont Chateau Whistler for a quick shuttle to the secret venue.  The buzz on the bus was certainly one of anticipation as the bus turned right leaving the Fairmont… Passing the Chateau Whistler golf course, options were quickly eliminated.  We turned left at Lost Lake but then continued past the park and arrived at the Chateau Whistler Practice Range.  Up on the hill we could see an outdoor living space craftily set up by Event Rental Work complete with a floor, lighting and live music.  Outstanding.
A welcome drink prepared by and concocted using Pemberton Distillery organic spirits was offered to all as they arrived and throughout the evening.  Food stations were set up by the Fairmont Chateau Whistler featuring a Charcuterie Station of meats and cheeses, a barbeque station with lamb chops, a pasta station with lobster or shrimp macaroni, and a dessert table which was the talk of the evening.
The canvas tenting set up by Event Rental Works in the anticipation of keeping the sun off attendees served well to keep the rain out and eveyrone dry… well almost everyone, as the barbeque Chef's had to weather the storm under umbrellas.  The little bit of rain certainly didn't dampen anyone's spirits as the social networking and interaction was evident that everyone was having a great time!
The Practice Facility is used by the Fairmont Chateau Whistler for special catered events such as weddings and incentive groups.  We were all blessed to be able to experience this special venue first hand and the Fairmont Chateau Whistler and Event Rental Works have certainly raised the bar and expectations for next year's Chamber Après series which will roll out next October.
Kudos to the Chamber team who continue to organize and put on such great events!
Have a great summer everyone!